Chef d'Cuisine John Reck has your favorite cut of meat and high-quality seafood selections at the best table in town. Find an elegant, intimate dining experience located between Robert's Buffet and The Golf Shop!
To accompany your perfectly cooked Midwest steak or fresh seafood selection, enjoy local ingredients, house-made butter and sauces, and a large selection of wine and signature cocktails. Whatever you choose, a touch of candlelight and attention to detail by everyone from the host to your waitstaff to the kitchen staff will heighten your luxurious experience.
Our fine dining and award-winning chefs will have you coming back for date night time and time again! Call us at 712.777.7777 or reserve your table via OpenTable. Our Group Sales team will assist with private room bookings to host your special occasions such as birthdays, anniversaries, rehearsal dinners and showers.
We kindly ask for your patience as we are experiencing nationwide supply chain constraints that impact quality, price and availability. This may unexpectedly change our daily menu selection. We strive to serve only the best products to our customers and apologize if we do not have your favorite dish during your visit. We appreciate your understanding.
Specials
Meet the Chef:
John Reck, Assistant Executive Chef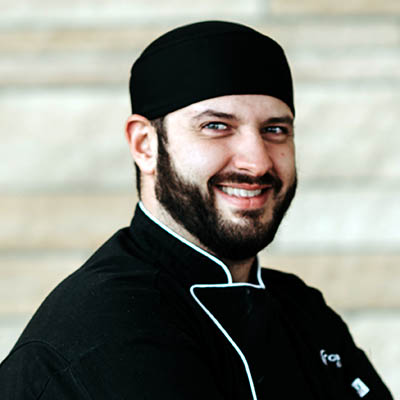 Meet Chef d'Cuisine and Assistant Executive Chef, John Reck. John was his dad's right-hand chef first, growing up watching him work in a restaurant kitchen. Once old enough, he started on dish duty but got lucky when they were short-staffed. John was asked to prep food and the rest is history!
We were lucky to have John join Grand Falls Casino & Golf Resort® in May of 2016. Not only has he learned to be a better chef and manager, but working here has transformed him into an extrovert. Learning on the job, John has taken an interest in not only advancing his food preparation knowledge but also his customer appreciation skills. He now enjoys spending time in the dining room, talking to guests and hearing their valuable feedback. Guests nearly brought him to tears during his first standing ovation following a superb Ruthie's meal!
Fun Facts:
Cooking inspiration: Dad
First meal prepared: French toast
Favorite cuisine: Asian for its exciting, fast and intesive form of cooking
Least favorite food: Dill
Years cooking: 14 years, "I've always worked in some kind of kitchen!"
Previous experience: Lone Star, Bracco, The Grill 26, The District